A miracle dough (or crazy dough) is a type of dough that can last up to 3 days when packed in a plastic and kept refrigerated. This recipe from Kitchen Nostalgia is a cut above the rest, however, because it's healthy. The complete version of this recipe with tips from the author can be read here.
Special thanks to Kitchen Nostalgia for coming up with this healthy recipe that we surely want to try. Their website has more baking recipes featuring the miracle dough, so be sure to check them all out. They have a Free e-Cookbook as well!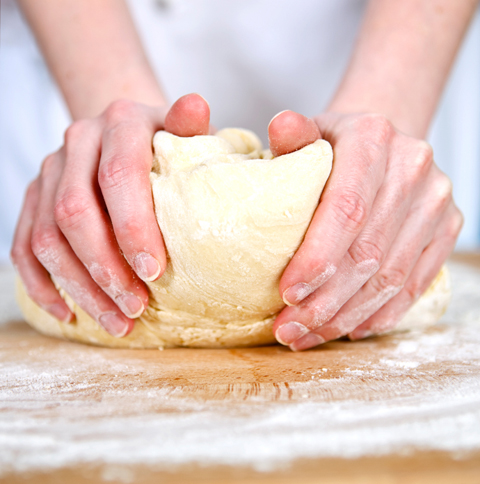 Gluten-Free Miracle Dough Recipe
Ingredients:
2½ cups milk, lukewarm
2 tsp sugar
80 g fresh yeast (or 4 tsp active dry yeast or 4 tsp instant yeast)
9½ cups (1 kg) gluten-free flour
3 tsp gluten-free baking powder
3 tsp salt
1½ cup plain yogurt
2 whole eggs
Directions:
Combine lukewarm milk with sugar and yeast. Let stand in a warm room until yeast activates, about 10-15 minutes.
Transfer yeast mixture to a mixing bowl and add all other ingredients. Mix well until you get a soft dough, similar to pizza dough.
You can start using Gluten-Free Crazy Dough immediately. Shape it any way you like, wait a little bit (about 15-20 minutes in the warm kitchen) until it starts expanding, then pop in hot oven.